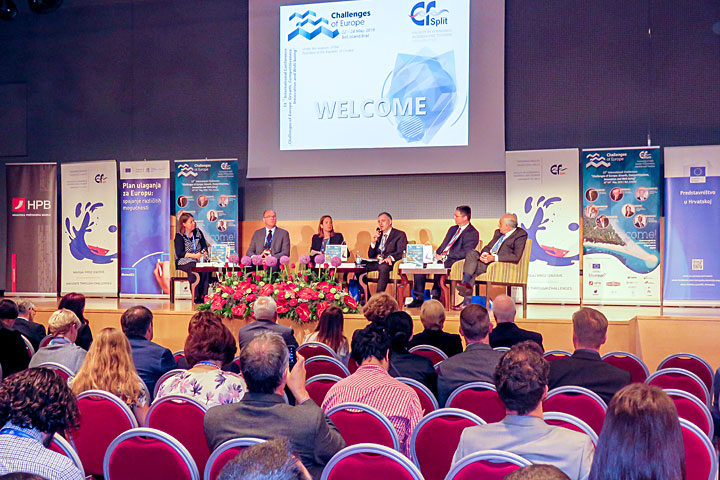 "Money is not everything" was the motto of the plenary panel on fostering investments and EU convergence, held at the 13th international scientific conference Challenges of Europe, organised by the University of Split, Faculty of Economics. "Investment growth in Croatia is still impeded by numerous obstacles and the delayed implementation of structural reforms, including that of the public sector. The European Commission is right in highlighting the need for advances in this area. The National Reform Programme does provide a good and comprehensive task list, but while some reforms have been implemented to a greater or lesser extent, many of them are lagging behind or have not even been started," stated the CNB Vicegovernor Faulend at the beginning of the discussion.
In response to the question by the panel moderator, Sanja Madžarević-Šujster, World Bank Senior Economist for Western Balkans Countries, regarding the financial regulator's stance on the investment situation in Croatia, Vicegovernor Faulend said, "Private investments have seen a cumulative growth of about 40 percent in the past four to five years, but are still below the level reached in 2008. Public investments have increased by only about 10 percent in the same period, among other things due to the necessary fiscal consolidation, and are the lowest compared with those in Croatia's peer countries."
Vicegovernor Faulend went on to explain the investment context in Croatia, emphasising that the investment structure has dramatically improved over the last decade, "Investments in construction have contracted markedly from the pre-crisis period, while investments in manufacturing and tourism have been growing. However, production investments are still too low, which means that growth opportunities have not been fully utilised."
In conclusion, Vicegovernor Faulend said, "The shift in investments is encouraging, but to sustain and accelerate this momentum it is critical to implement as soon as possible structural measures to streamline business operations. This is the only sound and sustainable way to increase the relatively low credit appetite. Specifically, enterprises are deleveraging abroad and borrowing at the domestic market, often also self-financing their investments. This is all happening against the backdrop of significantly improved domestic financing conditions and expansionary monetary policy, so that the supply of investment funds is considerably higher than the demand. It is also necessary to further develop the capital market and more efficiently utilise EU funds, as bank funding may not be suitable for all investment types, new innovative businesses in particular."
Also participating in the panel were Debora Revoltella, Chief Economist at the European Investment Bank, Sergei Guriev, Chief Economist at the European Bank for Reconstruction and Development, Carlos Martinez Mongay, Deputy Director-General of the Directorate General for Economic and Financial Affairs, European Commission, and Dražen Derado, professor at the Split Faculty of Economics.