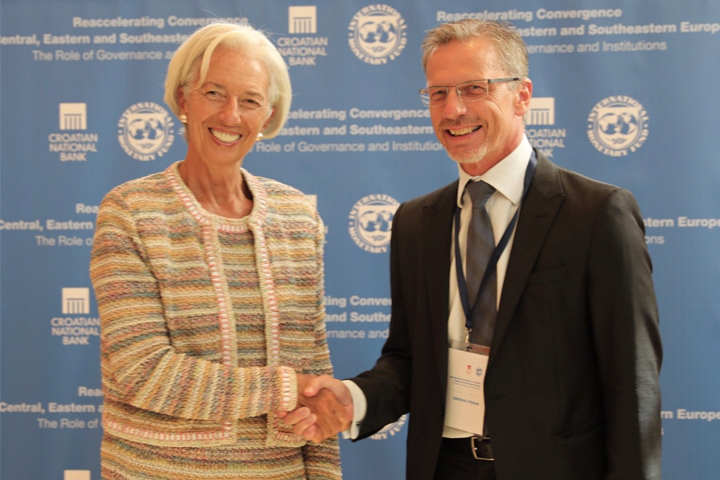 Today's meeting of the International Monetary Fund Managing Director Christine Lagarde with the Governor of the Croatian National Bank Boris Vujčić in Dubrovnik opened the high-level conference "Reaccelerating Convergence in Central, Eastern and Southeastern Europe – the Role of Governance and Institutions", organised by the CNB and IMF. In addition to the representatives of the International Monetary Fund, World Bank and the CNB, the conference will gather almost thirty central bank governors and ministers of finance from Central, Eastern and Southeastern Europe, representatives of the European Commission, European Bank for Reconstruction and Development, European Investment Bank and other institutions as well as renowned experts from the universities of Berkley, Columbia and other universities.
The working part of the conference will be opened by the Governor of the CNB Boris Vujčić and Poul Thomsen, the Director of the IMF's European Department, after which a series of presentations and panel discussions will follow, focusing on the conference topic: the strengthening of gross national income per capita and the challenges and ways of bringing the level of income in the region closer to West European standards. Special focus will be placed on the countries' experiences related to convergence and on current challenges to growth. The importance of institution building and their role in stimulating and achieving equitable and sustainable growth will be emphasised, supported by examples. Possible ways to achieve permanent improvement of institutions' work to the benefit of all citizens will be discussed as well.
IMF Managing Director Christine Lagarde will take part in a panel discussion focused on the characteristics of successful and durable reforms, with an emphasis on the importance of building institutions strong enough to lead a new phase of sustainable growth and convergence. The role of the external environment, such as the European Union, in the process will also be discussed. Besides Governor Vujčić, the Vice President of the Government of the Republic of Croatia and the Minister of Economy, Entrepreneurship and Crafts Martina Dalić and the Minister of Finance of the Republic of Croatia Zdravko Marić will also participate in the discussion on the Croatian side.
The conference is expected to answer the following key questions: where do countries stand today in terms of convergence? What is the role of investment, demographics and productivity? What are the odds of bringing the living standard of Central and Eastern European countries closer to that of the more developed part of Europe in the context of a slowdown in global growth and unfavourable long-term demographic developments? And, finally, what is the role of institutions and governments in this process?