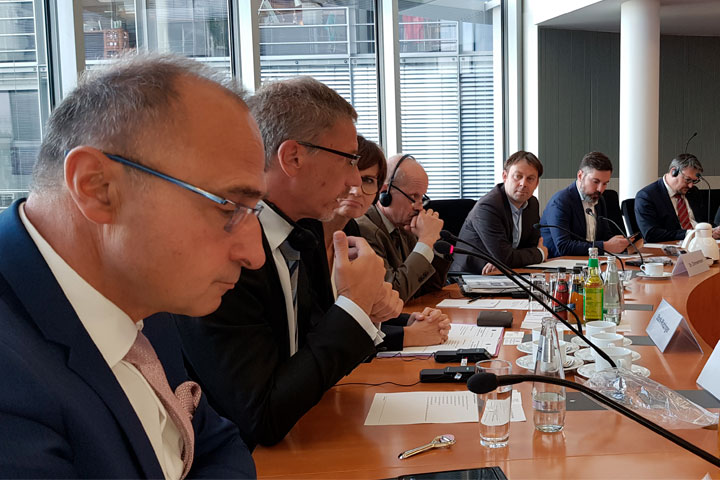 Croatian National Bank Governor was today on a working visit to the Federal Republic of Germany. He met and talked with the Vice-Chancellor and Federal Minister of Finance Olaf Scholz, and then with the Chairwoman of the Bundestag's Finance Committee Bettina Stark-Watzinger, as well as other members of the Committee. The topics discussed were Croatian economic outlook and prospects for euro adoption, the path towards the European Monetary Union (EMU) and the banking union; the opinions were exchanged in a positive and constructive atmosphere. Croatian Ambassador to the Federal Republic of Germany Gordan Grlić-Radman also took part in the meetings.
During the one-day working visit to Berlin, Governor Vujčić also held a presentation at Commerzbank entitled Croatia: Economic Growth and Path towards Euro Adoption. Croatia is the smallest EU Member State that still uses its own currency, despite being closely integrated with the euro area in terms of trade, as reflected in a high coherence of business cycles, noted the CNB Governor.
Talking about other specific features of the domestic economy in favour of euro adoption in Croatia, Governor Vujčić emphasised, among other things, that Croatia is a highly euroised economy; a substantial share of domestic savings (75%) and total debt liabilities (67%) is linked to the euro. The adoption of the euro would eliminate currency risk, which is one of the main sources of vulnerability of the Croatian economy. On the other hand, the loss of an independent monetary policy would not have a significant negative effect on Croatia – the Croatian banking system is dominated by banks owned by euro area institutions, which limits monetary policy options, while the exchange rate is held stable and cannot be used as a tool to enhance competitiveness.
Concluding the presentation, the Governor stated that the first step of Croatia on the path towards euro adoption is joining the Exchange Rate Mechanism (ERM II) and emphasised that Croatia would forward a formal request to enter ERM II within a foreseeable time.