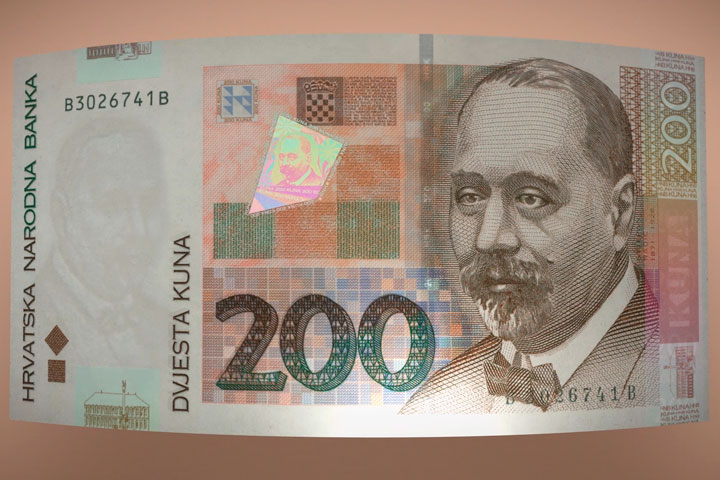 The Croatian National Bank has issued a series of educational videos on security features of kuna banknotes. For each kuna banknote denomination, the CNB has made a video that explains in detail the authenticity checking procedure.
Big differences in size, colour or basic motifs between the original and counterfeit banknotes are extremely rare so one has to check several security features. Banknote authenticity is checked by using the "feel, look and tilt" method, and to perform this simple check, one just has to follow the instructions given in the video.
The Croatian National Bank pays great attention to the protection of banknotes and coins against counterfeiting, and in designing kuna banknotes and kuna and lipa coins it pays particular attention to new security features which are simple to verify and at the same time complex to imitate. The CNB also conducts on an on-going basis the National Training Programme on Banknote and Coin Authentication for Bank and Financial Institution Employees, supplies systematically new banknotes and separates worn out and damaged banknotes to facilitate authenticity verification.
Having the exclusive right to issue kuna banknotes and kuna and lipa coins, the Croatian National Bank is responsible for the printing of banknotes and minting of coins, adequate reserves and regular supply of banknotes and coins in the territory of the Republic of Croatia.
Kuna banknotes are printed in foreign licensed printing works selected through international tenders and are issued in the denominations of 5, 10, 20, 50, 100, 200, 500 and 1000, each in its own main colour. The obverse of the banknotes feature leading figures of Croatian history and culture – Juraj Dobrila (10 kuna), Josip Jelačić (20 kuna), Ivan Gundulić (50 kuna), Ivan Mažuranić (100 kuna), Stjepan Radić (200 kuna), Marko Marulić (500 kuna) and Ante Starčević (1000 kuna) – while the obverse of the 5 kuna banknote features two famous, related Croatian noblemen (Petar Zrinski and Fran Krsto Frankopan). The reverse of all banknotes shows a panorama or a typical Croatian town motif – Varaždin castle (5 kuna), Arena in Pula (10 kuna), Vučedol dove and the Castle of Count Eltz in Vukovar (20 kuna), Dubrovnik (50 kuna), Church of St. Vitus in Rijeka (100 kuna), building of the general headquarters in Osijek, 1726 (200 kuna), Diocletian's Palace in Split and the figure of a Croatian ruler (500 kuna), monument to King Tomislav and the Zagreb cathedral (1000 kuna). The monetary unit of the Republic of Croatia, the kuna, was introduced on 30 May 1994.
Videos of kuna banknotes may be viewed on the following links: