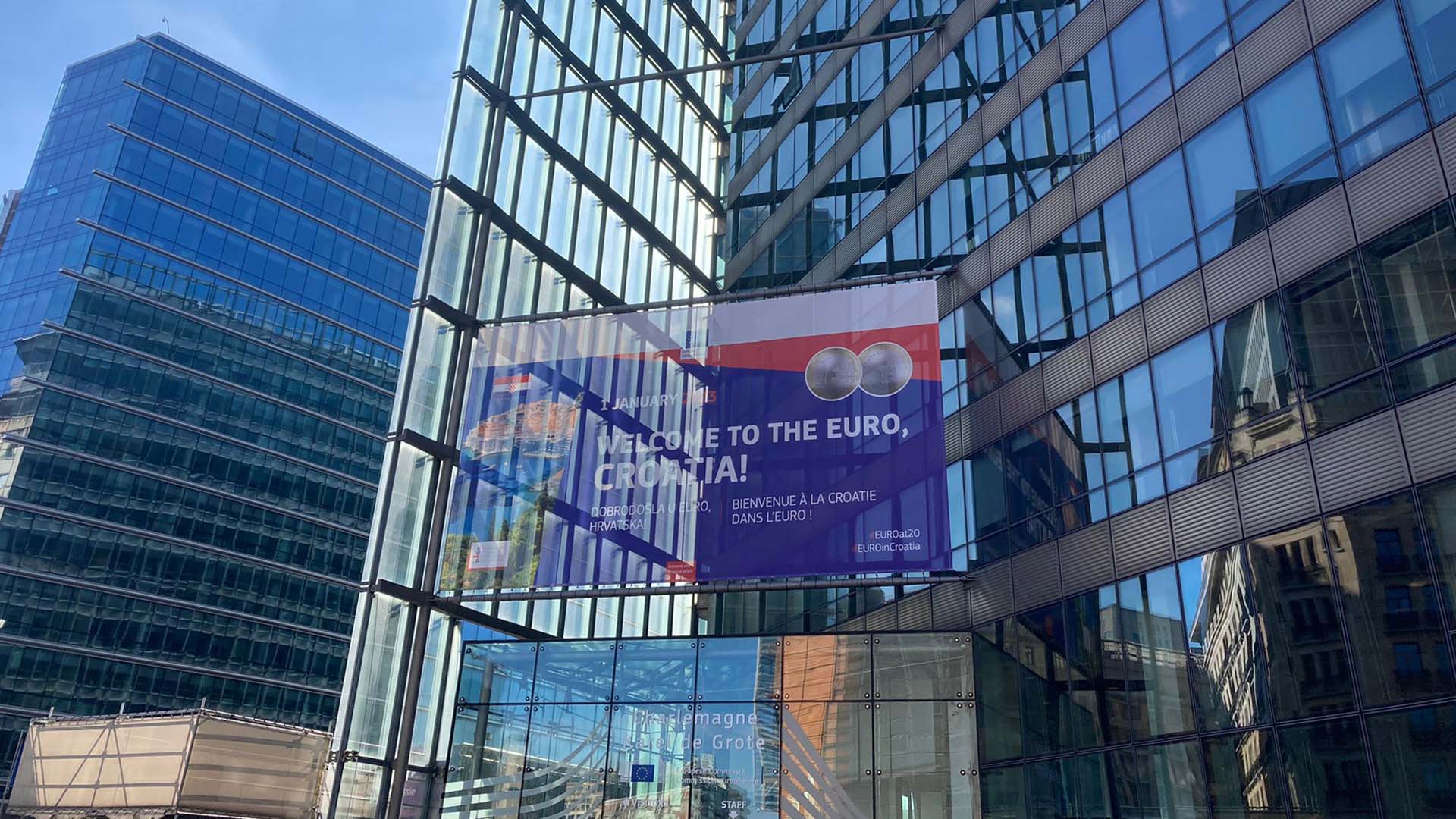 The Council of the European Union today adopted the Decision on the adoption by Croatia of the euro on 1 January 2023, amendments to the regulation according to which Croatia becomes the 20th member of the euro area and the regulation determining a fixed conversion rate between the euro and the kuna at: 7.53450 kuna per 1 euro.
The Council adopted the Decision in accordance with the positive assessment by the European Commission, after implementing procedures and conducting discussions in the Eurogroup and in the European Council, and taking into consideration the opinion given by the European Parliament and the European Central Bank.
The Decision was signed by Zbyněk Stanjura, Czech Finance Minister, in his capacity of President of the Economic and Financial Affairs Council (ECOFIN). The European Commission also displayed a banner on the Charlemagne building welcoming Croatia to the euro area with the message: Welcome to the euro, Croatia!
"Croatian citizens and entrepreneurs will have concrete, direct and lasting benefits from Croatia's joining the euro area. Currency risk will be largely eliminated, Croatia will become more attractive to investors and more secure in times of crisis. The euro is also the key value of the European unity and it will enable us to play an even more active role in the European project. I am truly proud of this great Croatian success," said Boris Vujčić, CNB Governor.
"We have achieved a strategic goal – Croatia is becoming a member of the euro area on 1 January 2023! The introduction of the euro will make our economy more resilient and raise the standard of living of the population in a long term. The membership of the euro area also provides higher security for Croatia and our citizens in times of crisis. We have worked hard and for a long time on this project because we firmly believe that joining the euro area is the national interest of Croatia," said Prime Minister Andrej Plenković.
The signing of the legal acts was followed by welcome speeches by Zbyněk Stanjura, Paschal Donohoe, President of the Eurogroup (via a video message), Christine Lagarde, President of the European Central Bank, Valdis Dombrovskis, Executive Vice-President of the European Commission, Commissioner for Economy, Paolo Gentiloni, Commissioner of the European Commission for Economy and Financial Affairs and Zdravko Marić, Vice-Prime Minister of the Croatian Government and Minister of Finance of the RC.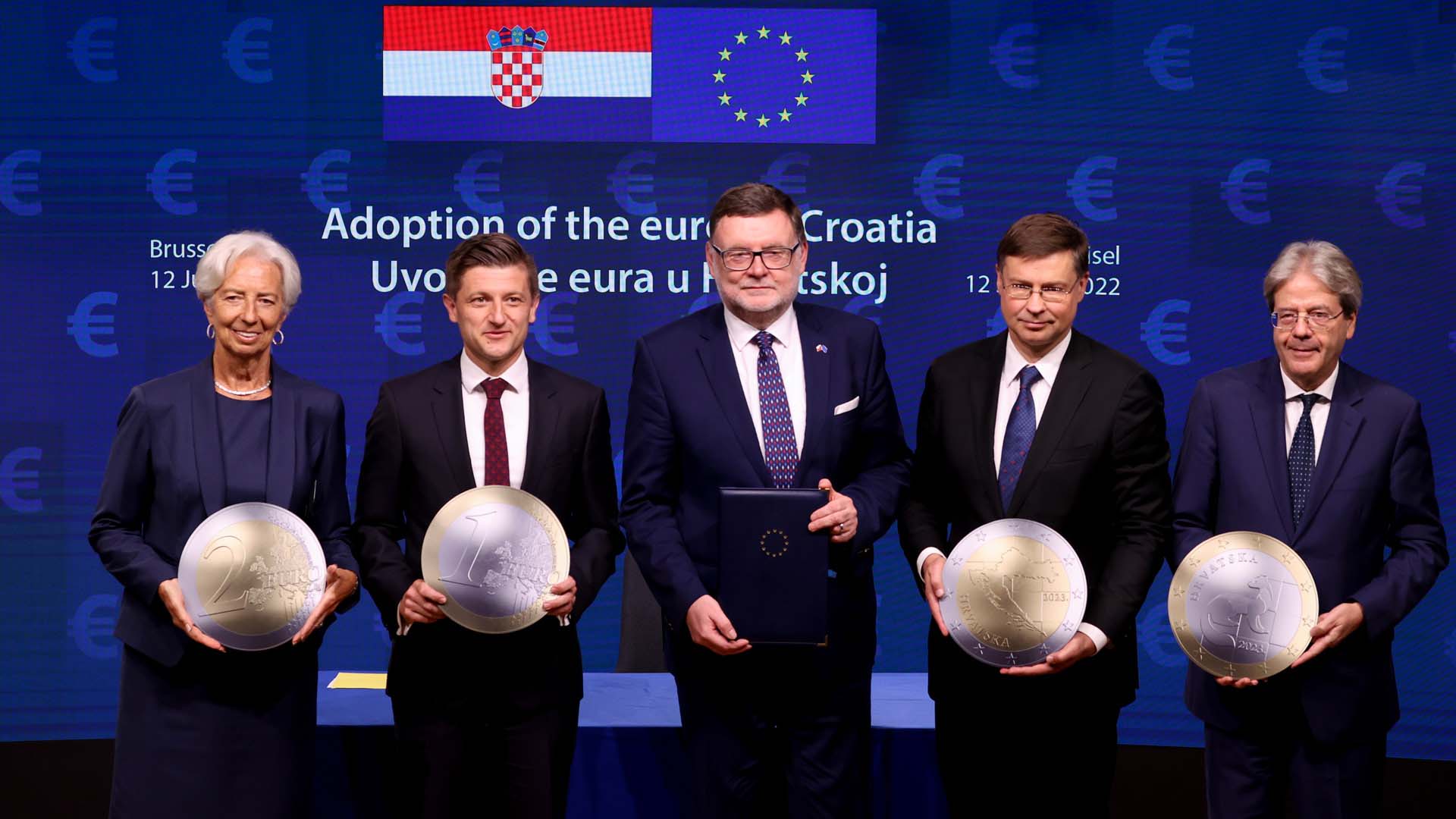 Christine Lagarde, Zdravko Marić, Zbyněk Stanjura, Valdis Dombrovskis and Paolo Gentiloni
© European Union
---
Council of the EU Press release
ECB Press release
Council Regulation (EU) 2022/1207 of 12 July 2022 amending Regulation (EC) No 974/98 as regards the introduction of the euro in Croatia
Council Regulation (EU) 2022/1208 of 12 July 2022 amending Regulation (EC) No 2866/98 as regards the conversion rate to the euro for Croatia
Council Decision (EU) 2022/1211 of 12 July 2022 on the adoption by Croatia of the euro on 1 January 2023