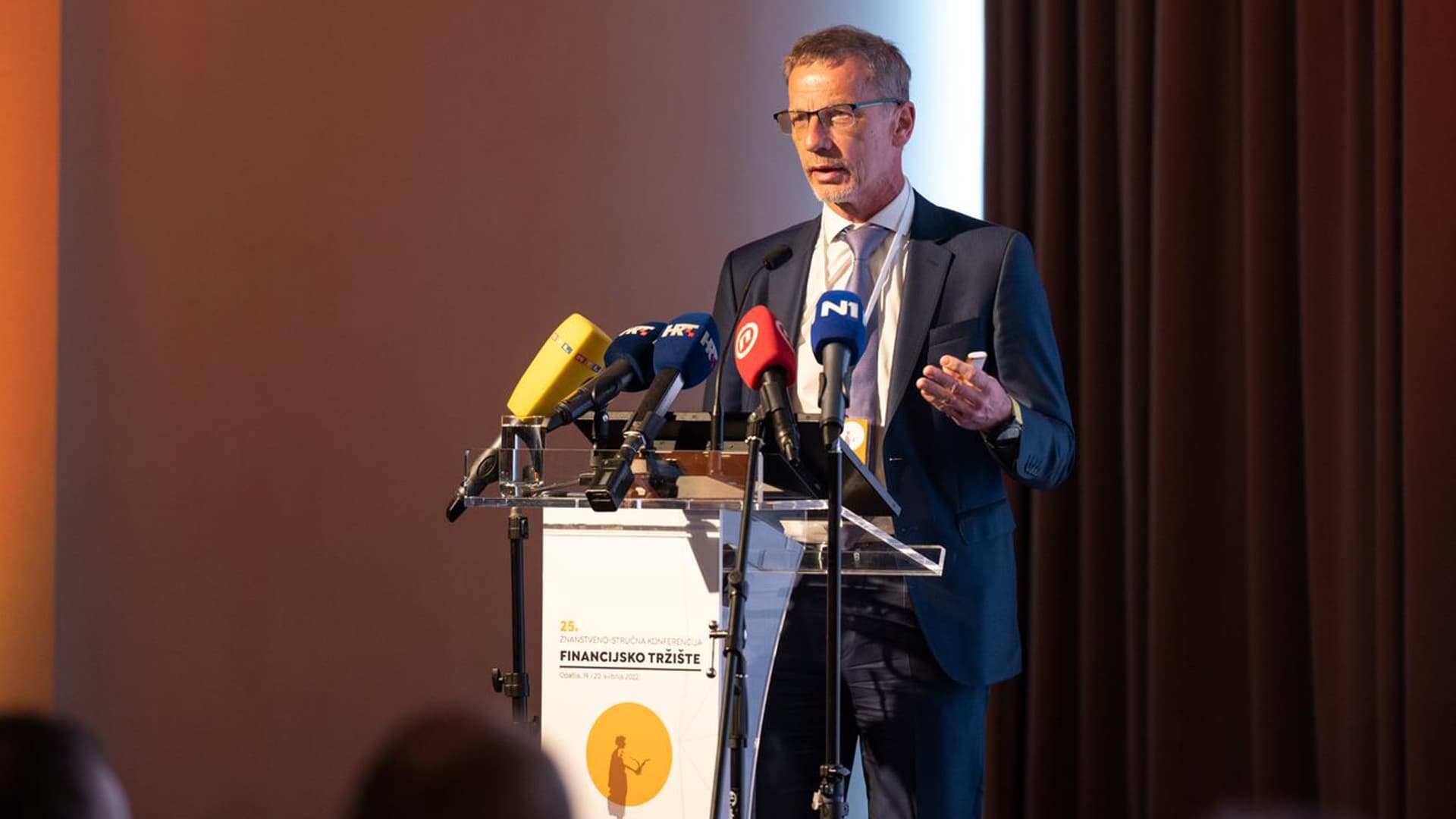 "Niži transakcijski troškovi, sudjelovanje u raspodjeli monetarnog prihoda Eurosustava, mogućnost zaduživanja kod Europskog mehanizma za stabilnost, niže kamatne stope, poticaj međunarodnoj razmjeni i investicijama te uklanjanje valutnog rizika, glavne su prednosti ulaska Hrvatske u europodručje", istaknuo je danas guverner Hrvatske narodne banke Boris Vujčić na 25. znanstveno-stručnoj konferenciji "Financijsko tržište" koja se održava 19. i 20. svibnja u Opatiji. Cilj konferencije je potaknuti razmjenu znanja, mišljenja i iskustva različitih profila sudionika te ubrzati gospodarske aktivnosti, poboljšati konkurentnost, potaknuti promišljanja o mogućnostima inovacija te kvalitetnijeg rasta i razvoja za dobrobit društva u cjelini.
Guverner je poručio svim predstavnicima financijskog sektora da će poslovanje banaka biti olakšano nakon uvođenja eura, odnosno da će se eliminirati najveći dio valutnog rizika i valutno induciranog kreditnog rizika iz sustava. "Banke će imati izravan pristup novčanim tržištima u europodručju i monetarnim operacijama Eurosustava, smanjit će se regulatorni troškovi, postat ćemo dio druge najjače svjetske valute. Država čija valuta ima status svjetske rezervne valute uživa niz prednosti, između ostalog i povoljnije uvjeti zaduživanja na međunarodnim tržištima kapitala", naglasio je Vujčić. Prema njegovim riječima, Hrvatska je najmanja zemlja članica koja nije uvela euro. "Što je ekonomija manja i otvorenija to uvođenje eura više znači. Hrvatska je zemlja EU koja će najviše profitirati od ulaska u eurozonu jer smo de facto najviše euroizirani od svih zemalja EU. Naš devizni dug, na primjer, iznosi gotovo 70 posto ukupnog duga, odnosno 127 posto BDP-a, to jest 533 milijarde kuna deviznoga duga", pojasnio je guverner.
Vujčić je posebno izdvojio podatak prema kojem će se uvođenjem eura smanjiti regulatorni trošak za banke, a to znači smanjenje obvezne pričuve s 9 posto na 1 posto i ukidanje obveze pokrića deviznih obveza deviznim potraživanjima (17 posto), što će bankama značajno smanjiti trošak poslovanja i pozitivno djelovanje na smanjenje kamatnih stopa.
S druge pak strane, uz uvođenje eura, vežu se rizici jednokratnog povećanja potrošačkih cijena, gubitak samostalne monetarne politike, rizik prekomjernog priljeva kapitala i rasta makroekonomskih neravnoteža, jednokratni troškovi konverzije, prijenos sredstava Europskoj središnjoj banci i uplata sredstava u kapital Europskog mehanizma za stabilnost. No, Vujčić je ustvrdio kako se većinom radi o jednokratnim troškovima, a da su koristi od prelaska s kune na euro dugoročnog karaktera i znato veće od troškova, dodajući kako će se rizik vezan za zaokruživanje cijena "na više" prilikom prelaska na euro znatno umanjiti nizom mjera kojima će se obeshrabriti takvi postupci čemu će pridonijeti kvalitetna informativna kampanja.