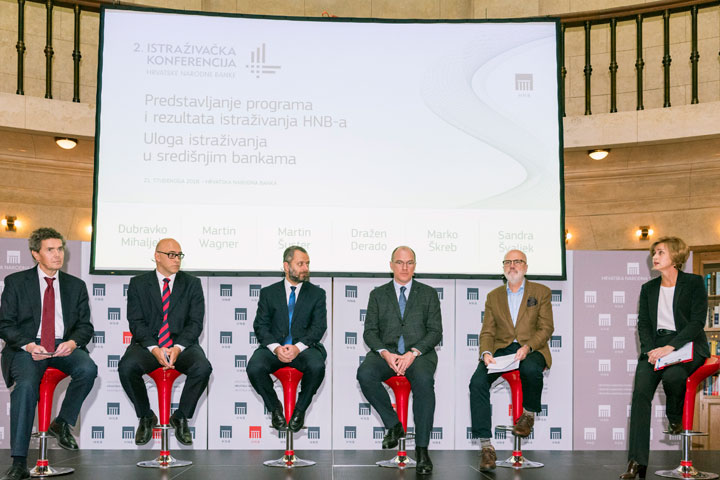 The 2nd Research Conference: "Research in Central Banks" was held on 21 November 2018 in the Croatian National Bank.
Presented at the Conference were the CNB's annual research plan, the results of the research conducted thus far and a historical overview of the research conducted in the past several years.
The publication of research and economic analyses of the central bank is important because it provides the public with the information on economic phenomena which helps the public understand what the central bank really does and why, said Governor Boris Vujčić in his opening address.
The Research Conference is yet another in a line of mechanisms used by the Croatian National Bank in an effort to open up the research process to interested parties and obtain feedback on the relevance of its research topics, said Vedran Šošić, the Croatian National Bank Chief Economist.
The basic role of the research conducted in the Croatian National Bank is to provide support to the bank's management in monetary policy management but it also serves to provide a better understanding of the Croatian economy, improved communication with the professional and general public and professional development of the bank's employees.
Priority research areas in the Croatian National Bank are monetary and exchange rate policies, the financial system and macroprudential policy, productivity and growth and payment system and technological development.
Maroje Lang, Chief Adviser in the CNB Research Area gave a historic overview of Croatian National Bank research publications and described the most important papers published in the past two years.
Papers by Croatian National Bank employees are published in occasional CNB publications Working Papers and Surveys, as analytical contributions in regular publications and in domestic and foreign scientific papers.
The participants in the scientific panel on the role and objectives of research in central banks of small EU Member States and the euro area, the event moderated by Deputy Governor Sandra Švaljek, included Dubravko Mihaljek (Bank for International Settlements), Martin Wagner (Bank of Slovenia), Martin Šuster (National Bank of Slovakia), Dražen Derado (Faculty of Economics, Split) and Marko Škreb (Central Banking Consultant).
The participants agreed that high quality research provided an important basis for monetary policy decision-taking. They stressed the importance of critical review of research and further cooperation with the academic community. The process of publication in scientific journals is often a demanding and expensive task but it is the only way that can ensure analytical research framework verification in a review procedure. Also taken into account should be the impact of accession to the European Monetary Union on the research function and the participants stressed the importance of selecting topics of relevance to the central bank rather than focusing only on the topics required by the European Central Bank.