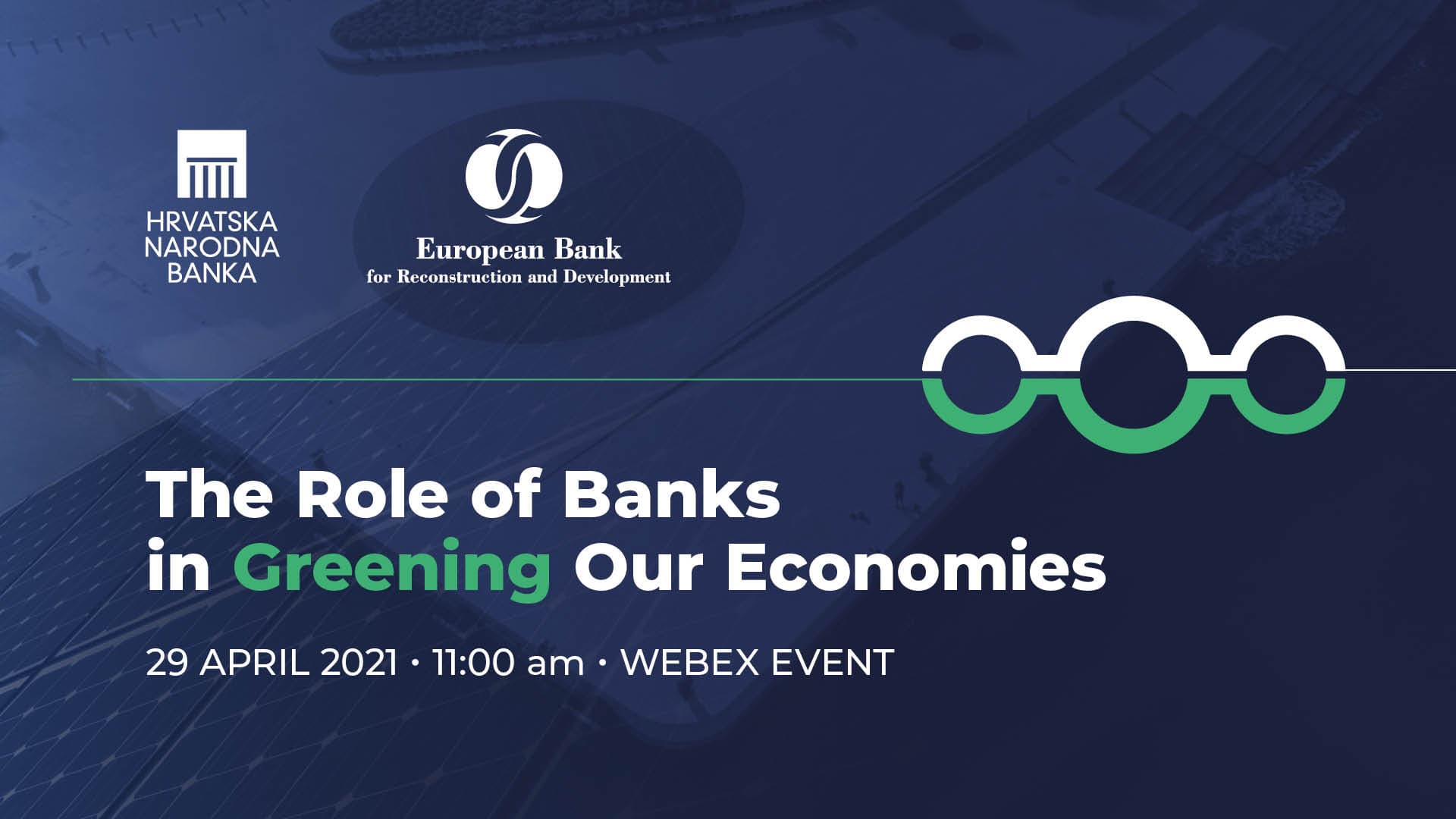 The Croatian National Bank (CNB) and the European Bank for Reconstruction and Development (EBRD) are organising an online event titled The Role of Banks in Greening Our Economies that will be held virtually on 29 April 2021.
The aim of the event is to raise awareness of the importance of sustainable finance and give insight into the role of banks and regulators in fostering climate transition and green economic growth.
In the period ahead, a key to financial institutions' success will be the development of new business models that complement the green use-of-proceeds model, take into account market and regulatory developments, include environmental risks and returns as key elements that influence investment decisions and meet climate-risk disclosure expectations. These new business models can have a positive influence on economic recovery following the severe impact of the COVID-19 health emergency, which otherwise threatens to disrupt the transition to a low carbon economy and the achievement of a net zero carbon world by 2050.
Boris Vujčić, Governor of the CNB and Francis Malige, Managing Director, Financial Institutions, EBRD will open the conference.
The keynote speech will be delivered by Frank Elderson, Member of the Executive Board and Vice-Chair of the Supervisory Board of the ECB and Chair of the Network for Greening the Financial System (NGFS).
The panel discussion "Unlocking Sustainable Growth Potential through Green Financing" will be moderated by Sandra Švaljek, CNB Deputy Governor. The panelists include Alberto Postigo Senior Credit Officer, Moody's, Andrea Pavlović, Member of the Management Board, Privredna banka Zagreb d.d., Ian Smith, Associate Director, Head of Intermediated Green Finance and Policy, EBRD, and Ian Cochran, Climate Action in Financial Institutions.
The Croatian National Bank will present the results of the CNB survey on how banks in Croatia perceive environmental and climate change risks.
The event offers a unique opportunity to learn more about the developments in this area and to explore how banks, including those in Croatia, are adapting and could adapt to market changes and act on opportunities to integrate sustainability into portfolio management.
The working language of the event will be English, and participation is by invitation only.