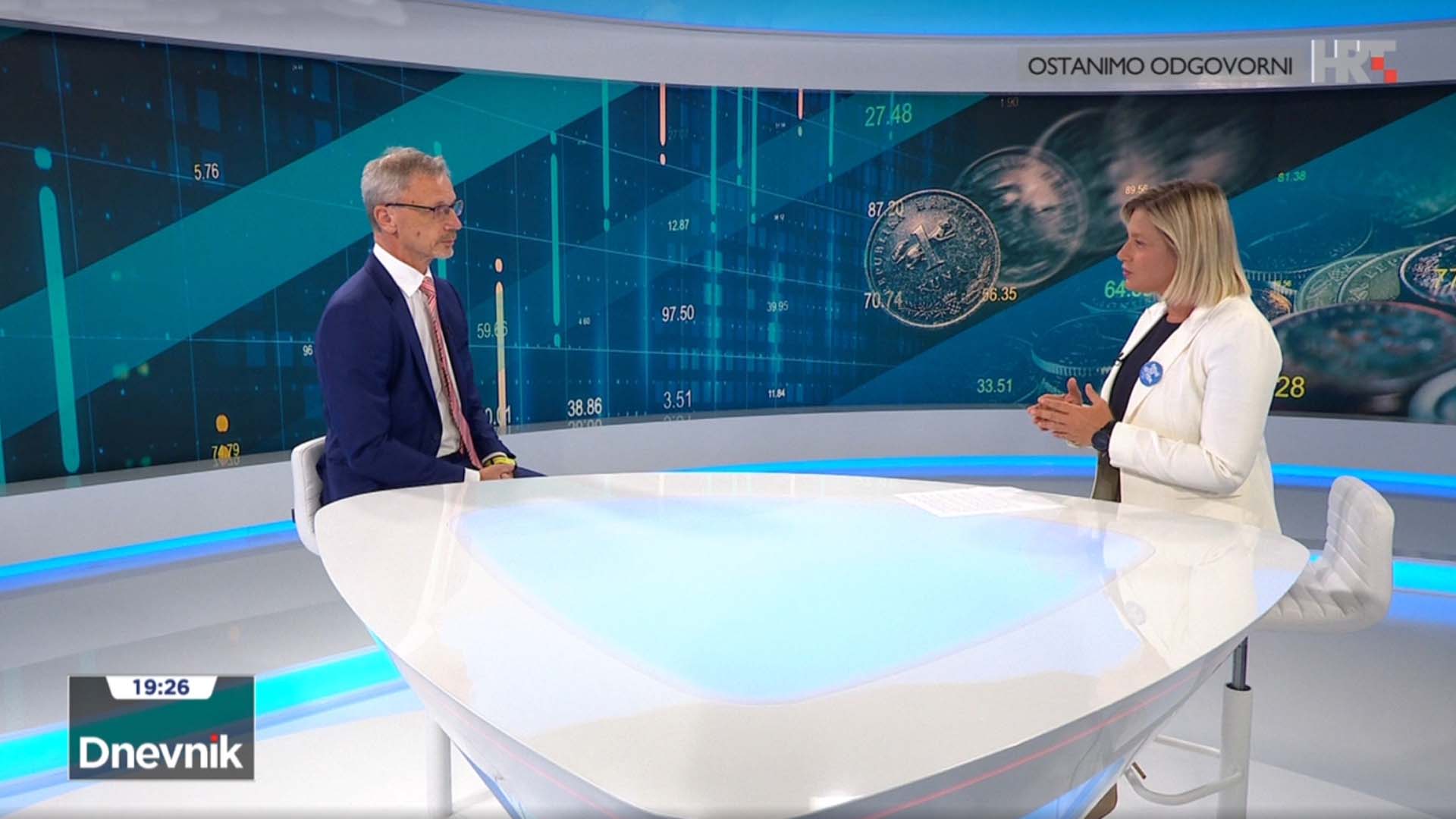 Guverner Boris Vujčić gostovao je 8. srpnja 2021. u središnjem Dnevniku Hrvatske radiotelevizije.
---
Boris Vujčić, guverner Hrvatske narodne banke, u intervjuu za Dnevnik HTV-ustvrdio je kako je dosad svoje ocjene za odabir nacionalne strane eurokovanica dalo više od 40 tisuća građana te je pozvao sve građane da ocijene pet motiva i predlože svoj vlastiti motiv na stranici euro.hr. Ocjenjivanje motiva traje do 15. srpnja, nakon čega će Komisija za novac donijeti odluku o odabiru motiva za nacionalnu stranicu eurokovanica.
Odgovarajući na pitanje o novoj ciljanoj stopi inflacije koju je u četvrtak donijela Europska središnja banka prihvaćajući novu Strategiju monetarne politike, guverner je kazao kako je ciljana inflacija dosad bila niža od 2% te da je sada postavljena na 2%, s tolerancijom i na malo više. "Rekao bih da se neće ništa kratkoročno događati. Istaknuo bih kako se u Strategiji navodi da je jednako nepoželjna devijacija nadolje kao i nagore u odnosu na ciljanih 2%. Inflacija je u ovom trenutku malo viša, ali na način kako smo i očekivali zbog baznoga efekta drugog tromjesečja prošle godine, kada je bio najsnažniji početak lockdowna i kada su cijene energenata i drugih sirovina zbog toga padale, a sada imamo oporavak i rast cijena, ponajprije energenata", naglasio je Boris Vujčić.

Prema njegovim riječima, posljednji podaci o inflaciji govore da se ona kreće na razini od 2%, što je u skladu s ciljem. Kad bi inflacija u sljedećim tromjesečjima znatnije porasla, mogla bi se očekivati reakcija središnjih banaka. "U ovom trenutku to ne očekujemo", napomenuo je guverner HNB-a, dodajući kako je u drugom tromjesečju ove godine rast cijene nafte bio viši od 100% u američkim dolarima na godišnjoj razini, odnosno 93% u kunama, a da se ove godine očekuje da će prosječni porast biti bliže 56%.

Voditeljica intervjua Zrinka Grancarić potom je navela da su menadžeri 30 središnjih banaka među najvećim strahovima izdvojili inflaciju, neuspjeh u borbi protiv pandemije i nagli rast javnog duga te je pitala guvernera koji je po njemu najveći razlog za zabrinutost u ovoj godini, a on je odgovorio kako je u ovom trenutku najveći rizik pandemija. "Tek trebamo vidjeti što će se u budućnosti događati s možda novim sojevima virusa i eventualno novim potrebama zatvaranja ekonomije. To je najozbiljniji neposredni rizik u ovom trenutku za naše projekcije rasta. Ako ovakva situacija s otvaranjem ekonomije potraje do kraja godine, u ovom trenutku HNB vidi višu stopu rasta nego što smo predviđali prije, od 6,8% u 2021., što je ponajprije zbog toga što ćemo vidjeti bolje rezultate u izvozu i robe i usluga turizma i zbog oporavka osobne potrošnje, a nakon toga i zbog povećanja investicija. Ako dođe do potrebe novog zatvaranja ekonomije zbog pandemije, to bi ugrozilo ove projekcije", istaknuo je Boris Vujčić.
Komentirajući problem visokoga javnog duga, kazao je da će se, s razine od oko 88,7% prošle godine, spustiti na 86,6% ove godine te se očekuje trend daljnjeg smanjivanja u idućim godinama.
Odgovarajući na pitanje o utjecaju Nacionalnog plana oporavka i otpornosti na gospodarstvo, guverner je napomenuo kako će iskorištenje sredstava iz tog Plana spriječiti da uobičajeni ciklus korištenja strukturnih fondova EU-a, koji ima trend dostizanja vrha i pada dolje prije angažiranja sredstava iz drugoga sedmogodišnjeg ciklusa, bude u ovom trenutku za Hrvatsku praktički izravnan. "Nećemo imati pad povlačenja i korištenja tih sredstava kao što obično zemlje imaju, nego će ovi fondovi spriječiti da to ima negativan utjecaj na BDP. Ako razina BDP-a bude viša. Pandemija može ugroziti bilo koji plan u negativnom scenariju rasta, ali nadam se da ćemo ostati kod našega temeljnog scenarija rasta BDP-a", istaknuo je guverner HNB-a.
Razgovor s guvernerom dostupan je na internetskim stranicama Hrvatske radiotelevizije.