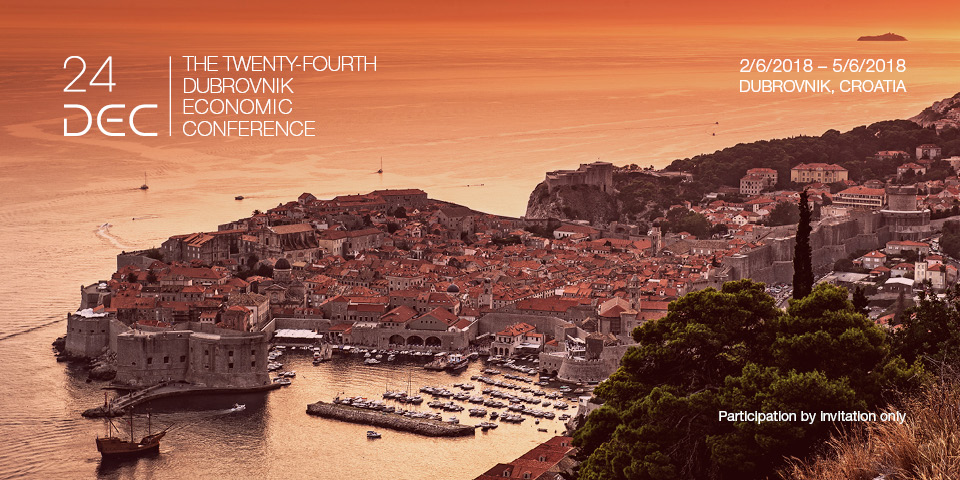 ---
PROGRAM COMMITTEE
Dr Boris Vujčić, Assistant Professor, Governor of the Croatian National Bank, Chairman of the Committee
Dr Paul Wachtel, Professor, New York University, Leonard N. Stern School of Business, Member of the Committee
Dr Randall K. Filer, Professor, Hunter College and The Graduate Center, CUNY, CERGE - EI, Member of the Committee
Dr Dubravko Mihaljek, Head of Macroeconomic Analysis, Bank for Interantional Settlements, Member of the Committee
---
ORGANIZING COMMITTEE
Tomislav Presečan, MSc, Vicegovernor of the Croatian National Bank, Chairman of the Committee
Nina Srkalović, Head of the Office of the Governor, Deputy Chairwoman of the Committee
Mirjana Šipić, Advisor at the Accounting Department, Member of the Committee
Vanja Orešković, Associate in the Office of the Governor, Secretary of the Committee
---
SELECTION COMMITTEE FOR YOUNG ECONOMIST'S SEMINAR
Dr Randall K. Filer, Professor, Hunter College and The Graduate Center, CUNY, CERGE-EI, Chairman of the Committee
Dr Evan Kraft, Professor, American University
Dr Paul Wachtel, Professor, New York University Leonard N. Stern School of Business, Member of the Committee
---
CONFERENCE INFORMATION
Conference Venue
Hotel Grand Villa Argentina
Conference Hall, Level 4
Frana Supila 14
20000 Dubrovnik, CROATIA
Tel.: 385-20-440-555
Fax: 385-20-432-524
Conference Office
During the Conference days: Hotel Grand Villa Argentina, Level 3. After the Conference days: Organizing Committee of the 24DEC - the Croatian National Bank, Trg hrvatskih velikana 3, 10000 Zagreb, Croatia
Contact
For all further information regarding the conference, please send e-mail to the following address dec@hnb.hr.
Audio Visual Facilities
An overhead projector, whiteboard, flipcharts and link for Power Point presentation will be available for participants. If you have any special requirements please let us know as soon as possible.
Faxes and Telephone Messages during the Conference days:
Please note that incoming faxes and telephone messages should be marked to the attention of: 24DEC - The Twenty- Fourth Dubrovnik Economic Conference.
Accommodation and location
Hotel Grand Villa Argentina

Hotel Grand Villa Argentina is ideally situated on the seafront with a perfect view on the Old City and nearby Lokrum Island .The hotel was opened in 1922 and provides both an idyllic retreat and superb service. Surrounded by a sub-tropical park, Hotel Grand Villa Argentina has salon with piano-bar, indoor swimming pool, sauna and massage, hairdresser, private beach, outdoor swimming pool on a shady terrace, parking space, garage and taxi service.
Please note that incidental expenses such as the mini bar, telephone or any other services offered by the hotel will not be covered by our reservation and should be paid on departure.
Meals
Breakfasts and lunches on both days will be served at the Hotel Grand Villa Argentina. Welcome cocktail on Sunday, June 3, 2018 will be served at the Hotel "Grand Villa Argentina".
Publication of papers presented at the Conference
The Croatian National Bank intends to publish the presented papers within a reasonable time following the Conference subject to international review. It is assumed that the authors will cede the copyrights to the Croatian National Bank.
Press
All Sessions of the Conference will be open for members of the press.
---
LIST OF PARTICIPANTS
Bas Bakker, International Monetary Fund
Mario Bambulović, Croatian National Bank
Hugo Bänziger, EABH
Emily Blanchard, Tuck School Of Business
Mario I. Blejer
Sanja Borković, European Bank for Reconstruction and Development
Peter Botoucharov, T. Rowe Price
Maja Bukovšak, Croatian National Bank
Nauro Campos, Brunel University
Elisabetta Capanelli, World Bank
Ivana Draženović, Croatian National Bank
Mirna Dumičić, European Central Bank
Enes Đozović, Croatian National Bank
Michael Faulend, Croatian National Bank
Randall K. Filer, City University New York & CERGE-EI
Raphaël Franck, The Hebrew University
Bojan Fras, Croatian National Bank
Leonardo Gambacorta, Bank For International Settlements
Yuriy Gorodnichenko, University Of California, Berkeley
Andreas Gottschling, Credit Suisse
Rainer Haselmann, Goethe University
Oleh Havrylyshyn, Carleton University
Henning Hesse, Goethe University
Drini Imami, Agricultural University Of Tirana
Ljubinko Jankov, Croatian National Bank
Miroslav Jošić, International Monetary Fund
Klaas Knot, De Nederlandsche Bank
Andrija Kojaković, Ceoc Ltd
Robert B Koopman, World Trade Organization
Christian Kopf, Union Investment
Irena Kovačec, Croatian National Bank
Evan Kraft, American University
Davor Kunovac, Croatian National Bank
Marina Kunovac, Croatian National Bank
Ricardo Lago
Maroje Lang, Croatian National Bank
Corrado Macchiarelli, Brunel University
Vladimir Maoduš, Morgan Stanley
Bojan Marković, European Bank For Reconstruction And Development
Relja Martić, Croatian National Bank
Dora Matošić, Central Depository & Clearing Company Inc.
Jen-Chung Mei, University Of Sheffield
Yves Mersch, European Central Bank
Dubravko Mihaljek, Bank for International Settlements
Henri Moezinia
Radmila Nižetić, Zagreb Money Market
Gary O'Callaghan, EU Delegation, Bosnia and Herzegovina
Damir Odak, Croatian National Bank
Vanja Orešković, Croatian National Bank
Nina Pavić, Croatian National Bank
Ivana Pižir, Croatian National Bank
Cristian Popa
Tomislav Presečan, Croatian National Bank
Dominik Ivan Pripužić, Croatian National Bank
Gordan Prugovečki, Croatian National Bank
Andreja Pufnik, Croatian National Bank
Debora Revoltella, European Investment Bank
Tomislav Ridzak, Croatian Financial Services Supervisory Agency
Juergen Schaaf, European Central Bank
Christoph Schoefboeck, Erste&Steiermärkische Bank
Stijepo Sentović, Croatian National Bank
Jan Smets, National Bank Of Belgium
Nina Srkalović, Croatian National Bank
Hrvoje Stojić, Addiko Bank
Gordi Sušić, Croatian National Bank
Jan Svejnar, Columbia University
Marko Škreb
Velimir Šonje, Arhivanalitika
Vedran Šošić, Croatian National Bank
Sanja Tomičić, Croatian National Bank
Vladimir Tomšik, Czech National Bank
Luca J. Uberti, University Of Oslo
Marc Uzan, Reinventing Bretton Woods Committee
Miljana Valdec, Croatian National Bank
Nicolas Véron, Bruegel
Boris Vujčić, Croatian National Bank
Paul Wachtel, New York University
Tina Zumer, European Central Bank
Ante Žigman, Croatian Financial Services Supervisory Agency
---
PAPERS